COLLEGE PARK – Fresh from a $30,000 grant from Maryland Governor Martin O'Malley's office to combat underage drinking, the University of Maryland Police Department announced today that it has been authorized to open fire on all minors suspected to be in possession of alcohol. Orders are shoot to kill, on sight.
Authorization was granted last night in a joint signing by Mr. O'Malley, UMPD Chief David Mitchell, and University of Maryland President Wallace Loh.  Evidently, school administrators felt that levying hosts of underage drinking venues with a hefty $2,500-per-minor fine was not severe enough.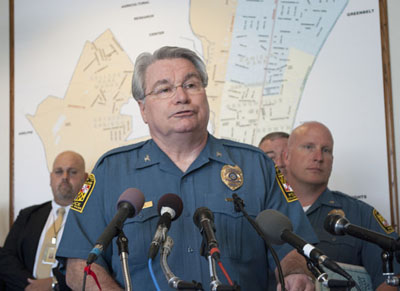 "We simply weren't content with ruining these kids' futures," University Police spokesman Captain Marc Limansky said. "We wanted to prevent them from happening in the first place."
Mitchell was looking forward to the many benefits of the measure.
"Think of how much money we waste questioning, assaulting, arresting, and charging these kids. The courts and jails are packed.  Now it's just 'wam, bam, see ya ma'am.  We're gonna save thousands!" he boasted.
When asked if he thought the measure was too strict, Limansky responded "It's simple. If kids don't want to get punished, they shouldn't commit the crime. If you can't take the heat, get out of the kitchen. I wasn't born yesterday. Other cheesy cop line. Error."
College Park residents were highly enthusiastic about the new measure.
"I want these kids to either stop having fun, or I want their faces in the mud," said one local at Town Hall Bar. "Drinking is unnaccept-" at which point he was cut off by his own vomiting.
Several prominent observers from The Diamondback, the University's independent newspaper, and even The Washington Post and The Baltimore Sun have questioned whether increased enforcement by allowing UMPD to shoot anyone they suspect is drinking underage will actually work, given the school's increasingly intense crackdown on underage drinking and, coincidentally or not, a corresponding increase in the overall level of underage drinking in College Park, according to surveys.
"The facts are wrong," said Limansky. "More enforcement is always the answer, and anyone who disagrees with that shouldn't be allowed to voice their opinion.  These kids may not understand why we're shooting and killing them, but some day they're going to thank us for taking this hard line."
Mitchell was excited to begin enforcing the policy.  He was adamant that his department was simply enthusiastic about doing their jobs.
"Our jobs are important to us," he said. "At the end of the day, this is all about public safety."
Buzz Killington contributed to this report. He can be reached at [email protected]
Follow us on Twitter @thirstytimes, find us on Facebook.