WASHINGTON – As questions deepen about the role President Trump has played in inciting increasing right-wing extremist violence, Mr. Trump on Tuesday morning took the unusual step of having a bowel movement on the South Lawn of the White House.
During a press conference, Sarah Huckabee-Sanders was asked numerous times about the president's responsibility for inciting violence, like a diehard Trump supporter who over the last two weeks mailed potentially deadly bombs to various high-profile liberals and who was clearly an avid fan of the president's.
"You have a huge role in dividing the country," said Ms. Huckabee-Sanders, after which she was inundated with questions by flabbergasted reporters. How can the media be responsible when the President himself calls them the enemy of the people?
As Mrs. Huckabee-Sanders paused, cameras cut away to President Trump sprinting haphazardly onto the South Lawn, dropping his pants, and initiating a robust bowel movement in front of hundreds of bewildered tourists.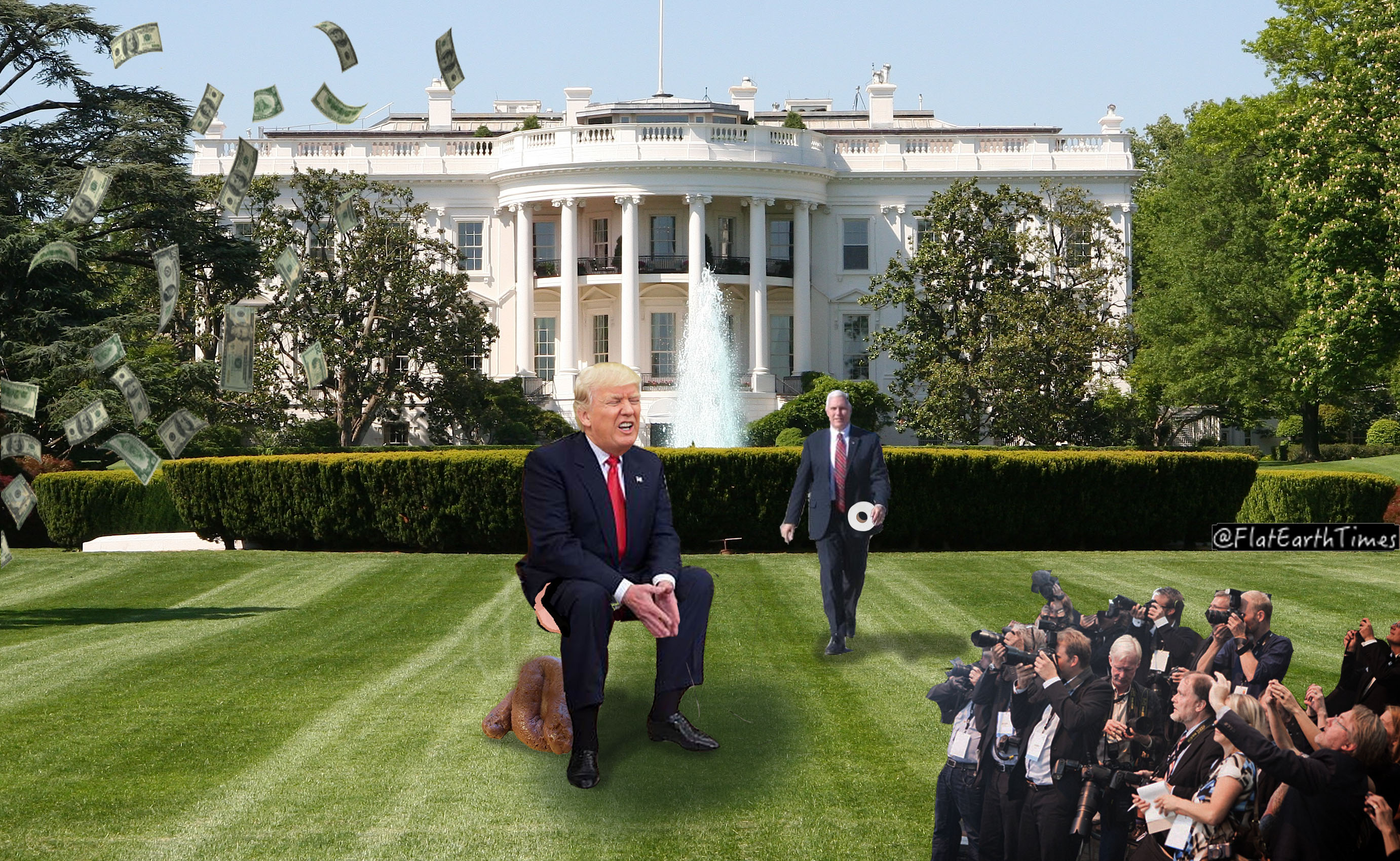 "We're going to end birthright citizenship in this, oohh, beautiful, yeah…. We're making America great again!" he was heard saying, gyrating and resting on his forearms as he continued his bowel movement. Motioning to Vice President Mike Pence behind him for toilet paper, he added, "that caravan is coming to sh-, I mean, give birth, on American soil, and everyone knows it."
Some tourists cheered on the president defecating on the White House lawn
"Take THAT liberals!" said James Bernadette, wearing a MAGA hat, who was later arrested for hopping the White House fence and attempting to consume the president's poop.
Meanwhile, conservative pundits came to Mr. Trump's defense.
"Trump is showing that we're not going to deal with any more crap from illegals and illegal caravans," said Sean Hannity on his Fox News program that day.
"Fake poop, fake TP, FAKE NEWS!" tweeted Lou Dobbs, pro-Trump host on Fox Business Network.
The President's ongoing threats to basic constitutional precedents could have wide-ranging effects on American citizens. Vicky Olmeda, whose parents moved to Arizona 12 years before she was born, was visiting Washington as part of a work trip.
Asked if the President's call to end birthright citizenship for the children of immigrants would encourage her to vote, she said, "I can't believe he's pooping on the lawn!"  Asked if she felt the narrative about the "caravan" of Hondurans migrating north through Mexico was dehumanizing to her, Ms. Olmeda said, "But he's pooping on the lawn! Why should anything else matter?"
When asked by a reporter as he walked back to the White House why he keeps trying to change the subject from more and more right-wing terrorist attacks, President Trump turned back and promptly suggested his feces resembled several southern gubernatorial candidates.
A passing butterfly contributed to this report. It can be reached at [email protected]
Follow us on Twitter and Instagram!